How will the plastics packaging tax affect you?
09/11/2018
The government will introduce a world-leading tax on plastic packaging which contains less than 30% recycled plastic. What does this mean for you?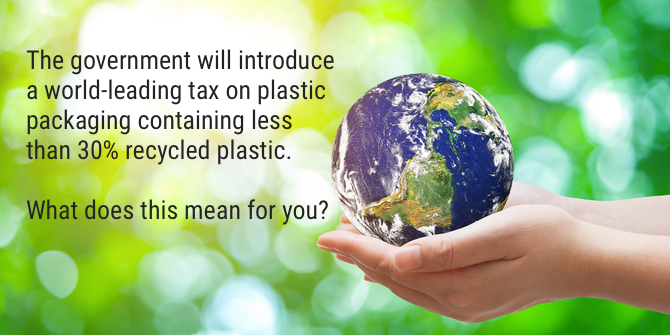 What is this new tax on plastic packaging?
A new tax will be introduced on plastic packaging from 1 April 2022. Subject to consultation, any business that produces or imports plastic packaging that does not contain at least 30% recycled content will have to pay a tax. The aim is to encourage businesses to ensure that far more packaging can be recycled and to use more recycled plastic in their packaging.
What is the current level of recycled materials within Palagan products?
Today, we produce films with between 0 and 80% recycled content. We are also investing in recycling systems and new materials to meet increased customer demand for high performance recycled packaging products
What is the maximum level of recycled material you could add to our products with no quality issues?
100% recycled content could be achieved if the recycled materials are of the highest quality. For this, the UK needs better recycling sorting infrastructure and customers may need to be willing to reconfigure their packaging specifications. Higher levels of recycled content will be dependent on the packaging application and current quality requirements. These need to be looked at on an individual basis to provide an accurate figure. Variation of recycled material will impact product performance and must be considered during plans for moving to new specifications.
We are actively developing new material blends which allow increased recycled content into the films while maintaining quality levels for the required application.
What level of recycled material could Palagan add to products if the packaging specification is altered?
You could achieve between 10% and 100% recycled material inclusion depending on existing specification. However, some requirements such as film slip level, mechanical film strength and sealing parameters may be affected with higher recycled material content, based on currently available recycled polymer compounds.
We are able to work closely with our customers to design and develop new packaging specifications which are sustainable and compliant with plastics tax.
We will continue to work closely with industry, suppliers and government to develop materials that meet legislative and customer requirements. As the consultation period progresses, we will provide more clarity to you about whether we can adapt your films to include more recycled content.